Hi there. You're on the Australian site,
take me to the
What type of recycling bins should I use? And why?
Keep them visible
The most important thing to do for your recycling initiative is to pick recycling bins which will inspire and engage your workplace. If your office is an open plan space designed by architects and designers, find recycling bins that will complement rather than counteract your aesthetic.
Employees are more likely to make errors or feel ambiguity towards your initiative, due to a lack of accountability, if recycling bins are concealed in cabinetry.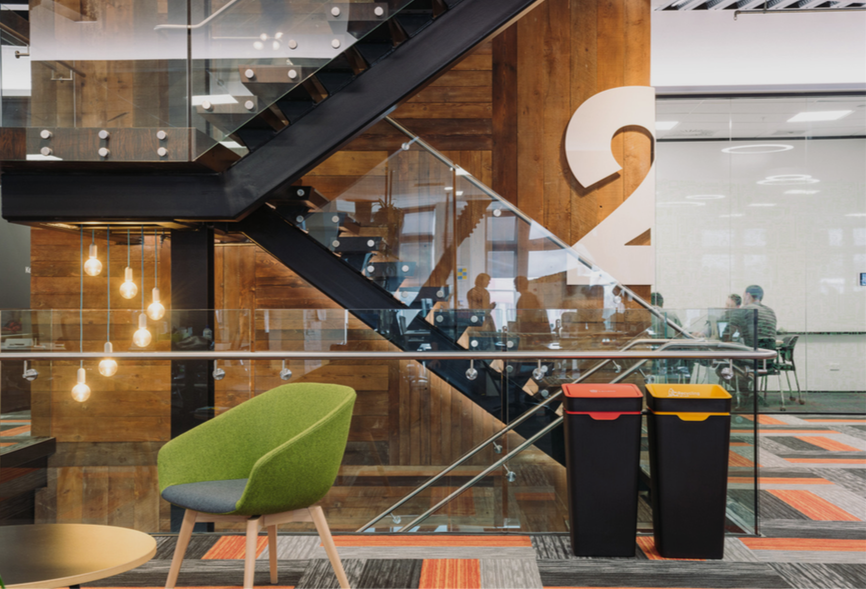 Make them colourful
The shade of your recycling bins should be consistent with your waste service provider's requirements, but should also be clear and vibrant. This creates a positive experience for users and fits in with the design layout of your workplace.
In summary, the design and appearance of your recycling bins directly influence recycling behaviour and should be carefully considered.
Method's 60L Office Recycling Bins, for example, are specifically designed to be visible, colourful and freestanding in an open plan environment.
What goes into recycling bins? Understanding waste streams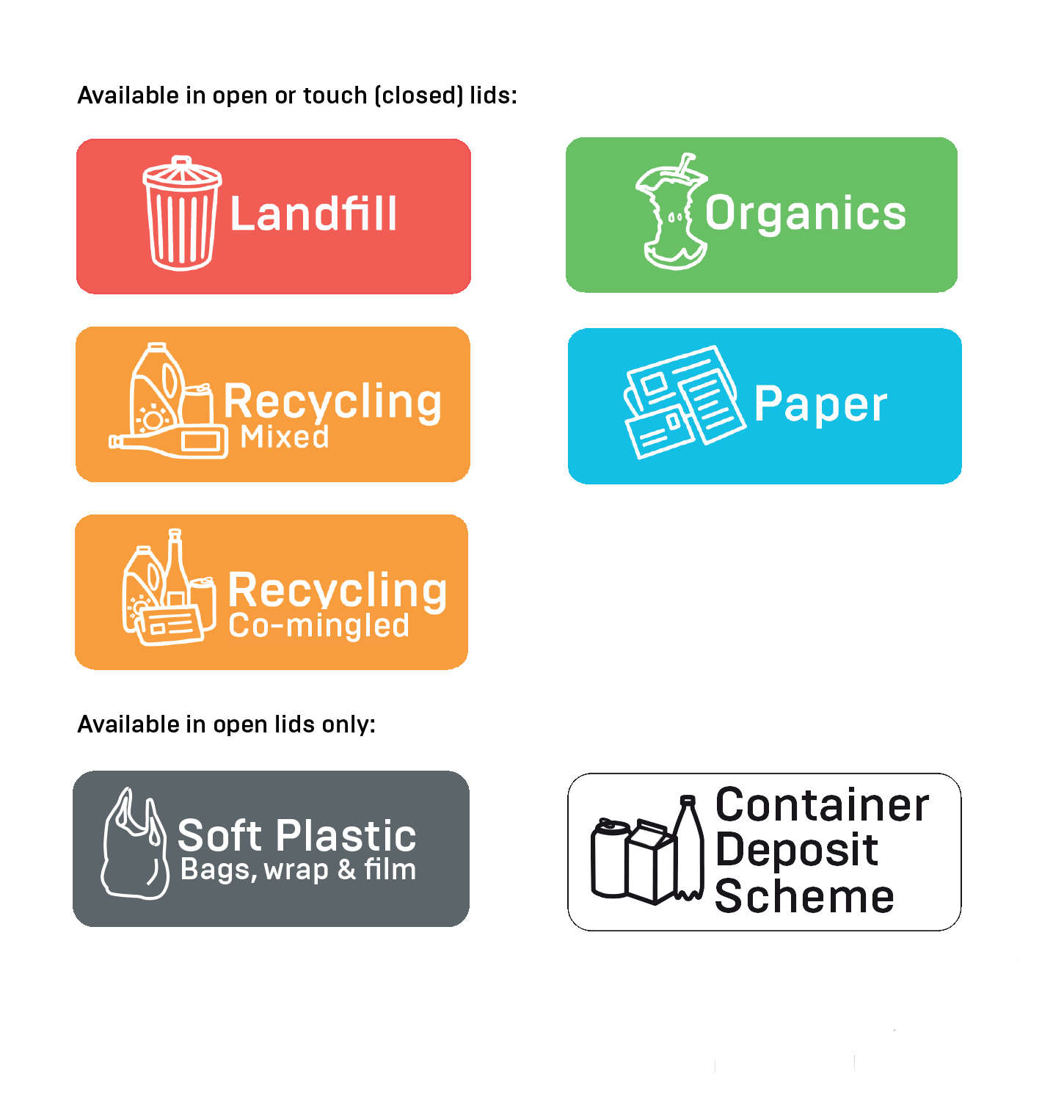 Defining your waste streams can be confusing. What's the easiest way to find which you'll need in your office?
First you'll need to understand your waste service provider's requirements, as waste streams vary from city to city.
Our Solution Finder tool combines your location with your workplace type to find the recommended solution for your office.
If however you'd like to compile this yourself, here are the ways to do so:
Do your research online

Speak to your waste service providers

Browse our resources

Conduct a waste audit to see exactly what your waste consists of.
How do I do a waste audit of my office?
Analyse your workplace's current systems

Revisit your workplace's procurement strategy

Plan which area of your office you will be doing your waste audit in and with which stream of waste

Understand your objectives

Ask your cleaning staff to collect this specific waste from this area

Analyse the results for each waste stream

What are the opportunities to improve?

What can you compare future achievements to?
Once you're sure of which waste streams you require you will need to define who will collect them and at what frequency. It is worth ensuring you are working with the correct waste provider.
The goal is to divert as much waste from landfill as you can, through recycling and composting.
How do I ensure I have the right waste service providers?
In order to have an exceptional experience with your waste service providers, we advise you to look for and utilise the following:
Dependability
Ascribe your business to those who will collect on time, deliver great customer service, and report back to you.
Understand your waste
Make sure everything that can be recycled is recycled and that you have the right level of collections for your different bins.
Transparency
Know where your waste is going once it leaves your site by researching online or talking to waste service providers.
Read recycling collection contracts
Ensure you delve into contracts and understand the environmental requirements for your workplace before you make a decision.
Check your sites
If you have multiple sites or locations within your facility you will need to complete this process for each of them.
Find your flow
Consult with staff, cleaners, facility managers, and contractors to create a collection schedule that works for everyone.
How do I talk to my cleaners about recycling?
Once you've decided to implement a recycling initiative you will need to contact your commercial cleaning company to inform and instruct them.
If possible present them with informative collateral – a handbook, or an online document that will show how to best service your recycling bins and work with the flow of your business.
With Open Plan Recycling, individual desk bins are replaced by communal recycling stations meaning that the time it takes to remove your waste is significantly reduced. This will need to be carefully communicated to your contractors as they are responsible for the way bin liners are implemented and that they are the right colours for the right bins, along with the overall upkeep of your recycling bins system.
Cleaners are key to your sustainability journey, able to track the rates of your success, and monitor and report back on areas of improvement.
Where do I put my bins?
Strategy is needed when it comes to placement of your recycling bins.
Check the flow of your office and consider where most of your waste is generated. Is it:
Near the printer

In the bathrooms

By your coffee machine

In your desk areas

Elsewhere?
These are optimal places to have recycling bins or stations.
We suggest one Method Recycling Station per 30 employees, as this ensures every employee is less than a ten second walk from recycling bins. We recommend arranging your recycling stations through your office to ensure effective use for all.
Bin placement shouldn't interfere with services such as fire exits and access points or become safety hazards.
How do I clean my bins?
To best clean our bins, we advise a soft cloth and a mild non-abrasive detergent.
We advise against washing Method lids in your dishwasher, or rinsing Touch lids as this may result in damage to the product.

How do I set up my bins?
Assembling your Method 60L Office Recycling Bin
For more information, please follow this link.